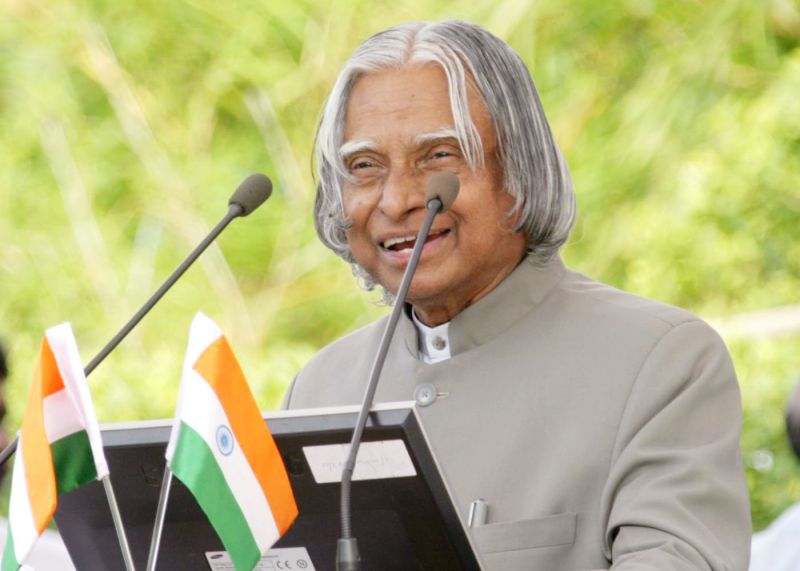 "Dream is not that which you see while sleeping it is something that does not let you sleep" - By A P J Abdul Kalam

A great person and well know name in history of India Dr. A. P. J. Abdul Kalam also known as "missile Man". He was born in poor Tamil Muslim family. He did lot of in his life for India. We can say a true Patriot (Desh Bhakt) and inspirational personality for every people of India as well as world. As an indian we are proud on our 11th president of India Dr. A. P. J. Abdul Kalam.

About Dr. A. P. J. Abdul Kalam :-
Full Name : Avul Pakir Jainulabdeen Abdul Kalam

Birth date : 15 October 1931, Rameswaram, Tamil Nadu, India

Death anniversary : 27 July 2015 (aged 83), Shillong, Meghalaya, India

Father Name : Jainulabudeen ( A Boat owner)

Mother Name : Ashiamma ( Housewife)

Profession : Professor, Author, Aerospace scientist

Schooling : Ramanathapuram Schwartz Matriculation School

Graduation : Madras Institute of Technology in 1954 in Physics subject.

Started study in "aerospace engineering in Madras Institute" of Technology in 1955

As a 11th President of India from 25 July 2002 to 25 July 2007 ( when prime minister were Atal Bihari Vajpayee & Manmohan Singh )


He came from very poor family so he started very early to earn and contributed to his father's income by distributing news papers.
He was average student in his student education but was strong in mathematics and used to do hardwork in his studies.

After graduate in 1960 he started his Career as a scientist and joined the Aeronautical Development Establishment of the Defense Research and Development Organization (DRDO).

Designed a small helicopter for the Indian Army, but remained unconvinced by his choice of a job at DRDO.

Failure V/S Success :

In this class project dean was not satisfied with the project's progress and threatened him to get back his scholarship if he fails to complete in next three days. He worked very hard on his project and achieved his target, and impressed the Dean.

He missed achieving his dream of becoming a "fighter pilot" because he got 9th rank and there were only 8 positions were available in the IAF.

Project or contribution by Kalam & Journey of Life :

1. Started work on an expandable rocket project independently at DRDO in 1965. In 1969, Kalam received the government's approval and expanded the programme to include more engineers.

2. In 1969, he started working at the Indian Space Research Organization (ISRO) as a designation of project director of India's first Satellite Launch Vehicle (SLV-III) and it was successfully deployed the Rohini satellite in near-earth orbit in July 1980.

3. In 1963–64, he visited NASA's Langley Research Center in Hampton, Virginia, Goddard Space Flight Center in Greenbelt, Maryland and Wallops Flight Facility.

4. Between the 1970s and 1990s, he developed two successful project the Polar Satellite Launch Vehicle (PSLV) and SLV-III projects.

5. He also directed two ballistic missiles projects :
Project Devil and Project Valiant using technology of SLV programme

6. R Venkatraman did cabinet approval for allocating 388 crores for the mission named Integrated Guided Missile Development Programme (IGMDP) and appointed Kalam as the chief executive. He played a major part in developing many missiles under the mission including Agni, an intermediate range ballistic missile and Prithvi, the tactical surface-to-surface missile, although the projects have been criticized for mismanagement and cost and time overruns.

7. Kalam served as the Chief Scientific Adviser to the Prime Minister and the Secretary of the Defense Research and Development Organization from July 1992 to December 1999.

8. He played a deep political and technological role in Pokhran-II nuclear tests in 1998. Kalam served as the Chief Project Coordinator along with Rajagopala Chidambaram during the testing phase.

9. In 1998 with cardiologist Soma Raju, Kalam developed a low cost coronary stent which was named the "Kalam-Raju Stent". In 2012, the duo designed a rugged tablet computer for health care in rural areas, which was named the "Kalam-Raju Tablet"

10. Kalam served as the 11th President of India after K. R. Narayanan. He won the 2002 presidential election against Lakshmi Sahgal. His term was from 25 July 2002 to 25 July 2007.


Books written by A. P. J. Abdul Kalam :
Inida 2020 - Published in 1998
Wings of fire - Published in 1999
Ignited Minds - Published in 2002
Guiding Souls: Dialogues on the Purpose of Life - Published in 2005
The Family and The Nation - Published in 2008
THE SCIENTIFIC INDIAN: A Twenty-First Century Guide to the World Around Us - Published in 2010
Target 3 Billion - Published in 2011
Turning points - Published in 2012
My Journey: Transforming Dreams Into Actions - Published in 2013
Indomitable Spirit -